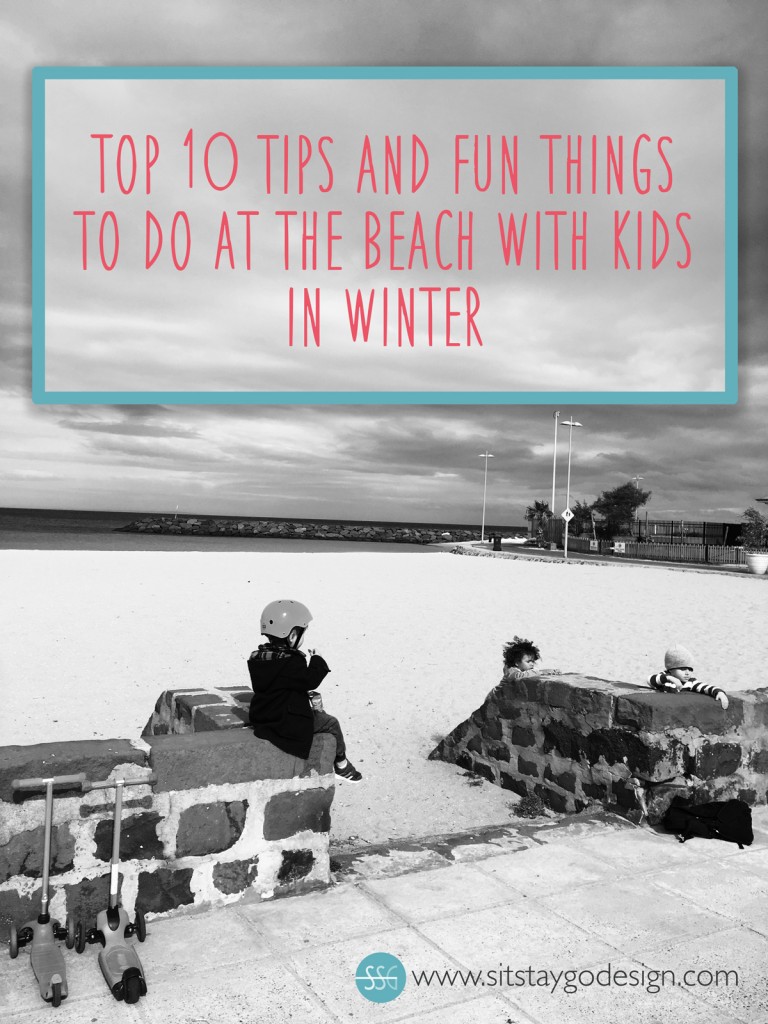 (pic) Hanging with the boys at Williamstown Beach, Melbourne
Today Jack and I spent a beautiful winter's day with our gorgeous friends at the beach. We are super lucky to live near a beach and we enjoy it often so I thought I'd share a few of our tips and activities to entice you to your nearest beach as it really is so much fun in Winter!
1. Exercise / Fitness
Jacks favourite thing to do at the moments is getting out on his scooter which is a bonus for me as he scoots and I either run or power walk alongside him. The beach is a perfect place to do this for a few reasons:
– I am not constantly looking for driveways and unpredictable cars
– It is the most magnificent backdrop
– The pedestrian paths are generally well maintained
– There is lots of drink taps so I don't have to carry a water bottle with me
TIP: If your little one doesn't ride a bike or a scooter, the beach in winter is a great place to teach them, as there are not too many people to try to avoid!
2. Beach Games
Anything involving a ball will keep kids entertained and burn off some energy. Soccer, beach volleyball, cricket, anything!
3. Go on a Treasure Hunt
There are so many wonderful things to collect at the beach, think shells, rocks, seaweed etc. So why not pack a bucket and get collecting.
You could turn it into a competition by turning the activity into a treasure hunt. Whoever finds the most items on the list wins!
Here is an activity sheet to get you on your way, it is also available here for you to download and print.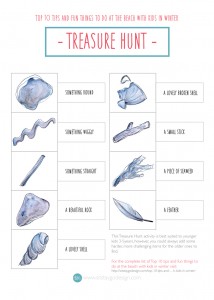 4. Building Sandcastles or Digging Holes
There is always the old favourite, building a sandcastle. Take some buckets and spades, and then add some imagination and story telling. It could be the dragon's den or the royal kingdom, moat and all.
As a bonus you can use the items collected during the treasure hunt items to decorate the sand castle
If your kids are not so attentive to sandcastles get them to dig holes and make a competition of it. Make a starting line and dig 3 holes at different distances/different sizes (this will form alternate degrees a difficulty), make it a challenge to see who can throw shells/beach rocks in the holes with the most accuracy.
5. Go Fly a Kite
The beach is usually a bit windy so instead of seeing this as a deterrent, consider it the most perfect kite flying conditions.
6. Have a Fish & Chip Picnic
Fish and chips at the beach is always a good idea, no matter what the weather. There is something about eating them at the beach that makes them so much more tasty than having them at home around your kitchen table.
Even if its simply too cold and windy, you can always have a cozy car picnic.
7. Unleash your Inner Artist
The artist in me suggests you and the kids can take your sketchpads / paper and pens, find a comfy spot and draw some of the things you can see. I advise taking a clipboard as I have chased one too many pieces of paper that the wind has captured. If drawing is not your thing, take some creative snaps; there might be great rain clouds on the way, (if your in Melbourne you are guaranteed it). Plus it's always a good chance to get some great snaps of the kids having a wonderful time in front of a beautiful backdrop.
8. Water Play
Take kids anywhere with water, no matter what the temperature, and you are guaranteed they will want to get a little too up-close and personal. Running away from the waves is always a fun game. Plan for the unexpected wave that captures their toes and take a change of clothes/shoes and a plastic bag for the sandy wet ones. It will make the tired trip home more pleasurable for you.
9. Practical Tip = There is Excellent Toilet Availability
If you keep your winter beach activities to beaches that are usually busy in the summer you are guaranteed to have frequently placed toilets and amenities. Perfect for kids (well my child in particular) that don't give much warning when they need to go or ones that are toilet training, mums/dads you totally know what I mean!
10. This one is more for the Mums and Dads = The Exhaustion Factor!
The excitement and activity that come with a beach adventure will most surely make your kids a bit weary and if your lucky they will fall asleep in the car on the way home and you get some peace and quiet time 😉 Find a drive through coffee place and sit back and relax!
I hope your next beach adventure is as fun as ours,
Trish xo
PS If you enjoyed reading, I'd love it if you signed up to my mail list and joined our community. I send out updates of blog posts I write, info on Sit Stay Go product launches and some little goodies here and there.