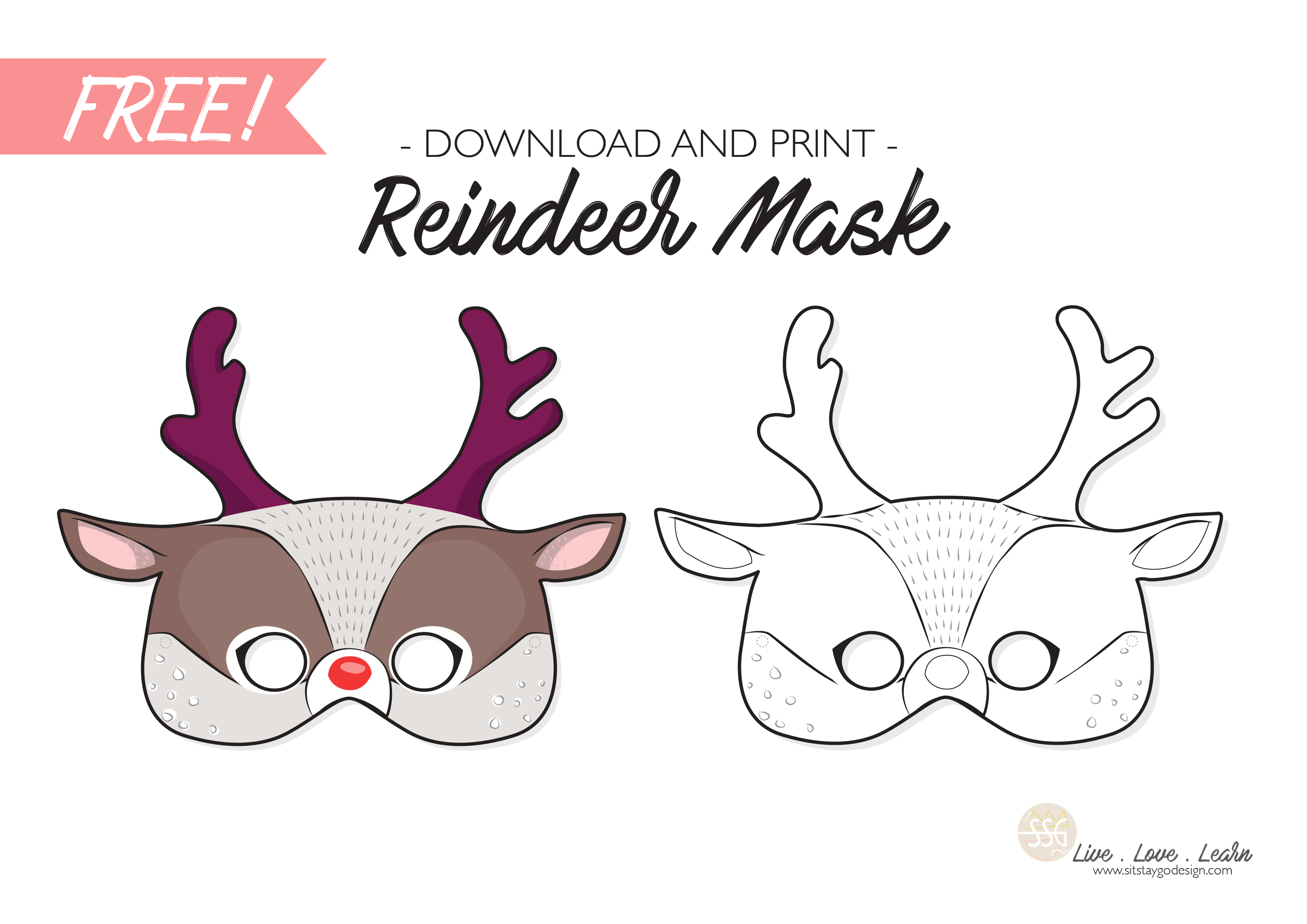 I've already got Christmas on my mind and I'm busy preparing an exciting collection of kids Christmas activities for you all to download and use, totally for free! Woo Hoo!
Yep, all about sharing the Christmas love and keeping the little ones entertained over the busy period.
Today I wanted to share one of the gorgeous activities that will be included in the exciting Christmas package, a sweet Reindeer Mask.
Your kids will totally love making this and then galloping and prancing around pretending to pull Santa's sleigh 🙂
I have included a pre-coloured template and one the kids can colour themselves.
It a super easy activity to do with the kids, here are the steps:  (if you need some extra visual guidance here is a link that will also help out)
STEP 1
Gather you materials
Sticky Tape
Scissors
Elastic
Hole Punch (not essential)
Glue Stick
Printed Reindeer Mask Template (print at 100%)
Thick Card (a used cereal box will do the trick)
Any colouring and/or decorating materials (optional)
*** If colouring and decorating your own mask, work your creativity now.
STEP 2
Roughly cut around the printed mask to eliminate the bulk of paper you don't need.
STEP 3
Turn over, right side down and cover, all over, with glue.
STEP 4
Turn over and firmly press the glued side down onto the thick card.
STEP 5
Very carefully cut around the outside black line of the mask. Don't forget to cut out the inside of the eyes.
To cut out the eyes, it is easier to punch/poke a hole in the middle of the circle to put your scissors through to start cutting the circles out.
STEP 6
Punch, or poke holes with your scissors, where specified to make holes for the elastic.
STEP 7
Put the end of the elastic through one hole, tie a knot then tape the loose end into place on the back of the mask to secure.
STEP 8
Measure the elastic to fit a head size and put the other end through the second hole. Again, tie and know and secure with tape.
***Here is a link to some instructions with photos if you need some visual guidance.
DOWNLOAD the free printable Reindeer Mask templates here
If you love this activity and are interested in my FREE Christmas Activity pack, sign up to my mailing list (using the form above) and I'll let you know as soon as its available.